What Are Affiliate Programs?
Affiliate programs are marketing relationships between one or more businesses (or individuals) in which one business promotes the other business in return for compensation. Let me give you an example.
You have a business called XYZ and you want to promote a business called "Widgets are Us". For every customer that your business XYZ referred to Widgets are Us and that customer purchases, your company will get a percentage or fixed amount of the sale.
The advantage of this is that all your company did was refer a customer to the Widgets are Us company and your company XYZ made money. Your company XYZ didn't have to sell the product, package and ship the product, deal with customer service or inventory, do any warehousing, deal with employees or worry about the payment from the customer.
Online affiliate programs offer home based internet businesses (and non internet businesses) the opportunity to promote products and websites that are already set up by another business. You as the "affiliate partner" will market these products and or services and receive a commission or fee for sending customers to other company. A great article that I found is The Unicorn, The Dragon, And...The High-Earning Affiliate.
Advantages of Affiliate Programs
Disadvantages
No Control over how your referral was treated
No Repeat Sales
One Time Sale for all Your Efforts (some times)
Affiliate may go out of Business
Unable to Get Customer E-mails as easily
The Program may be dropped by the affiliate company
As you can see there are advantages and disadvantages to these programs which you will need to take into consideration. This is where your business plan will help you to make the decision of whether an affiliate program will fit into your home based business or not. There are many businesses that have their own website and products and incorporate these programs for extra sales. When I weighed the advantages and disadvantages, I found that the advantages are much greater when you find the right affiliate relationship. Finding the right program can remove all or almost all of the disadvantages.
Can I Start One for My Home Based Business?
Yes, you can set up your own affiliate program to help promote your business. Many smart business people utilize this tool as one of their home based business marketing plans. If it is set up correctly, you will have the power of numerous companies and individuals marketing your business products or services. It can be a very strong income stream. One company that allows you to publish your digital products is ClickBank.
Most of these programs have the software to track which individual and company referred the customer and how much of a commission or pay out they will receive.
I found an excellent free course called the Affiliates Master Course which you can download. Once you get this course you will be amazed at all the incredible information. It is filled with valuable insights and ideas. I have also put the free email course on this page below in case you would rather receive the email version.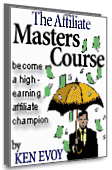 Click here and send a blank e-mail to receive The Affiliate Masters course... It's an intensive 5-Day e-mail course on becoming a high-earning affiliate champion.
Done with Affiliate Programs? See Home Page for More